28 Aug

Business Lessons From Frozen 2
I'M OLDER, BUT STILL LEARNING
The very first blog post I wrote on this website (six years ago?! How can that be?) was Five business lessons I learnt from Frozen.
While in some ways, I feel like I've matured a lot as a copywriter and business owner, there's still plenty that leaves me feeling like Olaf in Frozen 2: "This will all make sense when I am older."
Yes, the one guaranteed thing about being in business is that there's always more to learn and there are new lessons all the time.
So, with the spirit of learning in mind, let's take a look at some of the lessons I took from Frozen 2.
LESSON ONE: MY LOVE IS NOT FRAGILE
One of my favourite moments in Frozen 2 is when Kristoff has his "woe is me" boyband moment after being left behind by Anna, then when they are reunited he acts all cool and says "My love is not fragile." Lots to take from this from a relationship perspective, amiright?
But alas, I digress. Back to what it means for business. One of the hardest things we need to deal with as copywriters is feedback. And what I specifically mean is negative feedback. We all get it sometimes. Not every client is going to love every single thing you write and some jobs just aren't going to go smoothly. The trick is to not let it break you and become consumed with doubt. Have your little pity party being "Lost in the Woods" for a moment, then dust yourself, remind yourself that your love is not fragile, and do your best to turn the job around!
LESSON TWO: TIE UP YOUR HAIR AND RUN INTO THE UNKNOWN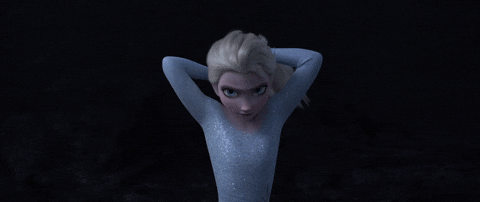 It's the copywriter equivalent of the mum classic: "Messy bun, getting shit done." Yes, sometimes you've just got to pull your hair back like Elsa, and dive in, giving jobs a red hot go.
You won't have the exact right experience for every single job. But you've probably got enough experience to give it a shot. What's the worst thing that can happen? You probably won't discover that you've got mythical powers, but you'll probably learn other lessons about yourself and what you're capable of achieving.
So, go on. Step into the unknown.
LESSON THREE: SHOW YOURSELF
It can be tempting sometimes in business to hide behind some persona you've created for yourself. But that falseness is impossible to maintain and is pretty easy to see through.
One thing I've really learnt in business over the past six years (yep, still feeling shocked that it's six years) is that you need to put yourself out there. I'm not the most consistent with my marketing as a cursory look at my website and socials will show (ahem, big case of cobbler's children's shoes). But what I do know is that being yourself is key.
Business, even business to business relationships, is all about connecting with people. That's why personal branding is the hot topic that everyone is talking about in 2020.
As Elsa sings:
"Show yourself, step into your power, throw yourself, into something new, you are the one you've been waiting for."
So just what is my power?
I've tried to play around with being fun and quirky. But let's be honest. It's not my default state. (I mean, I think I'm hilarious, but it's maybe a bit of a specialised flavour of humour.)
What I am is:
Organised
Knowledgeable
Research-driven
Reliable
Clear
One of the nicest things anyone ever said to me in a professional context was that I'm "a pair of safe hands." As someone who thrives on helping others to achieve their own business goals, that made me almost float away with pride.
LESSON FOUR: DO THE NEXT RIGHT THING
Often in business, you're travelling without a road map. You don't always know what step you should take next. Or what's going to give you the best outcome.

Like Anna sings, sometimes all you can do is "the next right thing." And if that right thing turns out to be not-so-right, well, you've just got to try another "next right thing."
ARE THERE OTHER BUSINESS LESSONS YOU'VE TAKEN FROM FROZEN 2?
Maybe you've got another kids movie you'd like me to find business lessons from. Let me know!